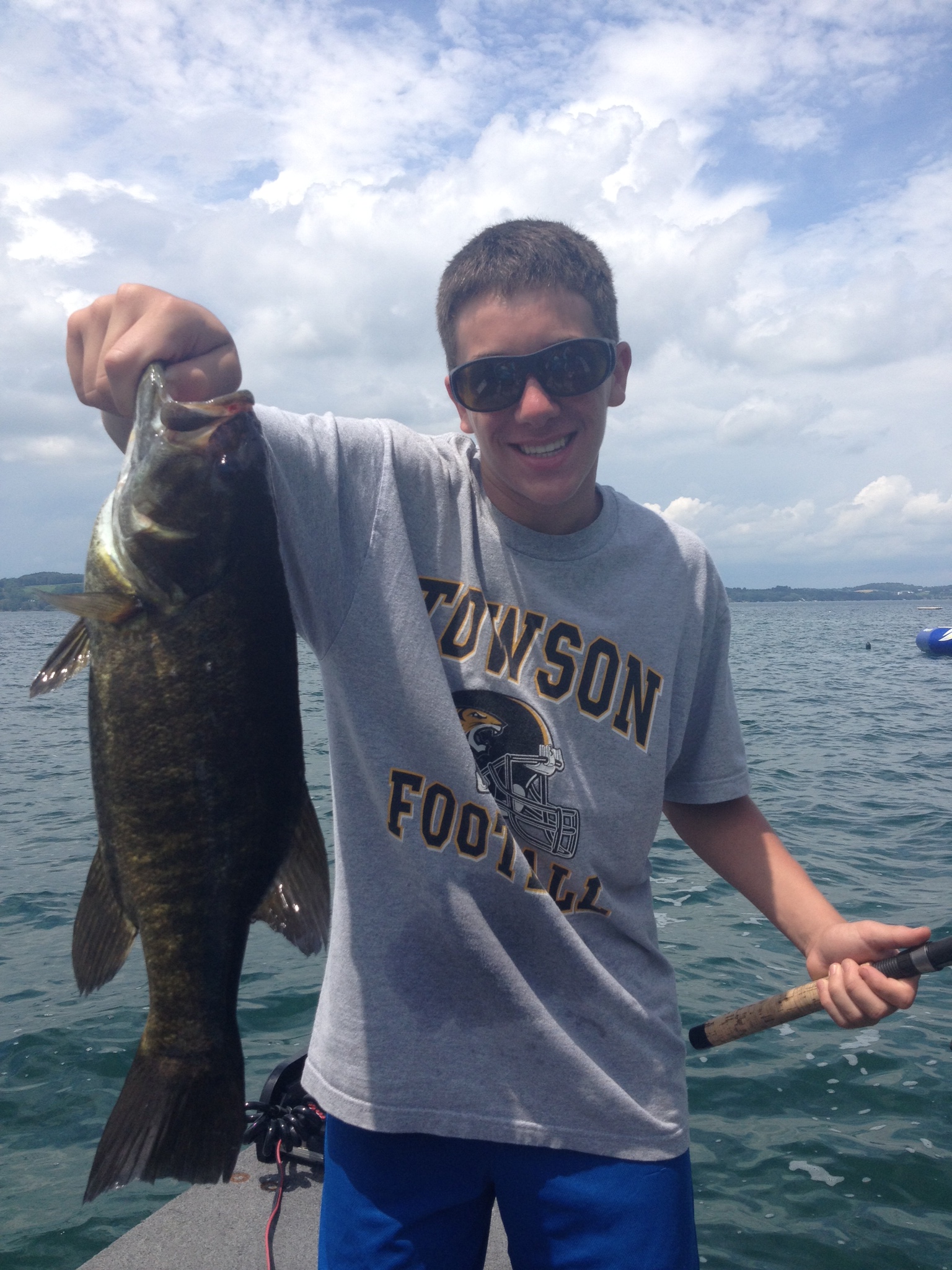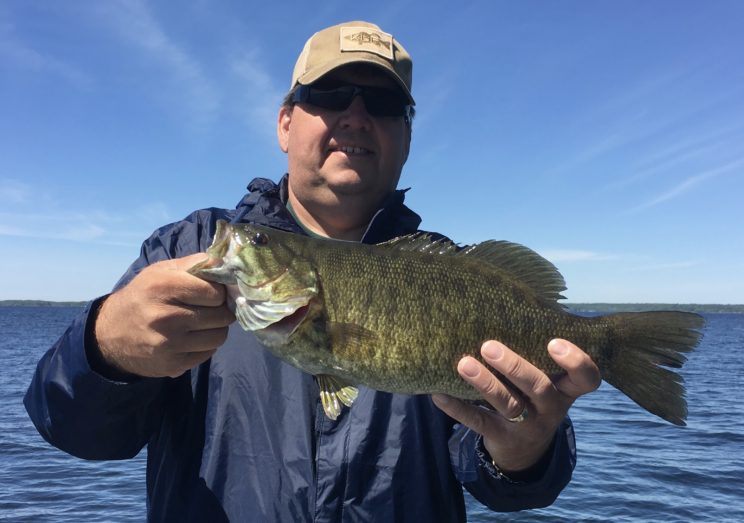 When the water warms and the trout retreat to the thermocline and below, I turn the attention of my guide service to smallmouth bass. Many of the Finger Lakes, Oneida Lake, the St. Lawrence River and its' bays, offer Upstate New York anglers outstanding action.
When I first started guiding, 15 years ago, I focused on stillwater fly fishing and light tackle trout fishing on the lakes and ponds of the region. Trout are susceptible to flies and light spin tackle during the late Autumn, Winter and Spring months here. As my phone began to ring more and more in the summer, I entertained guests who wanted to fly cast to smallmouth. So I began to follow the schools of smallmouth around the shallows during the months of July and August.
Around mid-summer the smallmouth proved difficult on the many pressured lakes I fish, and the fly rod in shallow waters, became difficult to create nice and consistent catches. So I switched to spinning gear to hook up with smallmouths that were heavily schooled around structure on or nearby deep flats and basins.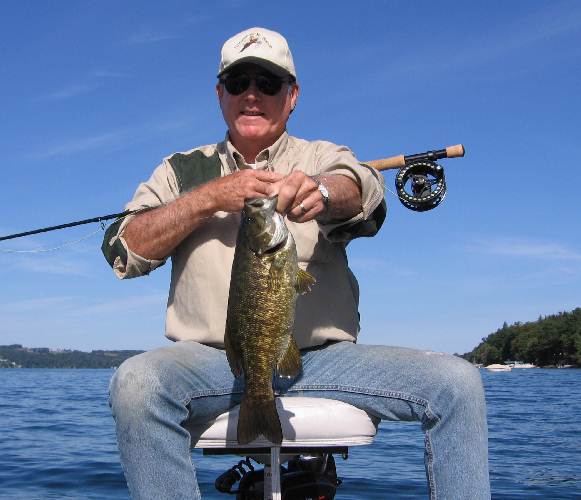 While I enjoy fighting a fish, any fish, I never used to considered myself a bass angler. Rarely did I ever target them, and even discriminated against them, seeing them as a nuisance during trout season, thinking of them as the "chickens" of the lake. But the demand for bass was apparent on my guide service. Yet my transition into bass fishing was a slow one.
What I had in my arsenal of spinning rods pertained to trout. So the medium light fast action seven foot St. Croix and Fenwick rods I owned, best suited for light biting trout, were employed to catch bass. Light six and eight pound test fluorocarbon attached to 10 pound braid, the recipe I used for trout, I employed for bass.
Matching the forage fish and crustacean menu of the lakes seemed the natural way to go. The "match the hatch" fly fishermen in me was (is) tough to ignore, especially when looking at popular bass baits. So soft plastics and weighted custom marabou and feather jigs, that most closely resembled the natural food the smallmouth are always eating, was the recipe I used.
It worked great. Still does. Sometime around 2007 I began using a presentation called drop shot fishing. This technique was perfectly suited for the long, slender, sensitive trout rods and light line I was already fishing. More time on the water with increased summer bass guiding over the seasons, an investment in state of the art electronics, and soon I was having days in July, August, and September where it was not uncommon for my guest(s) to bring 50 or more smallmouth to net in a mornings fishing.
Most of these summer fish come from areas in the lake that have no discerning feature, like an island or a dock. Where you find the bass in summer is dependent upon the type of lake you are fishing and the the food chain. A fishery that I have been exploring and guiding more and more over the last few years is the St. Lawrence River. I am still unlocking its secrets and exploring its vast shoals and bays with my Lund. The summer of 2016 found consistent catches of PIG smallmouth coming to my net on The River.
Anyone that knows me or has fished with me has likely been subject to my cynical view of professional bass fishing. The entire idea of competitive fishing has always been, in my opinion, weird. As a local and regional licensed guide, launching on numerous lakes all summer, my disdain for competitive bass fishing has grown. The armada of noisy boats often clog the boat ramps, relocate the fish, and crowd the water.
But that is just my opinion and since this is my blog…
I am all about catching bass these days, and while the reward is not a fancy bass boat or a big-time logo painted on my truck. Thats ok. A smile on a kids face will do fine!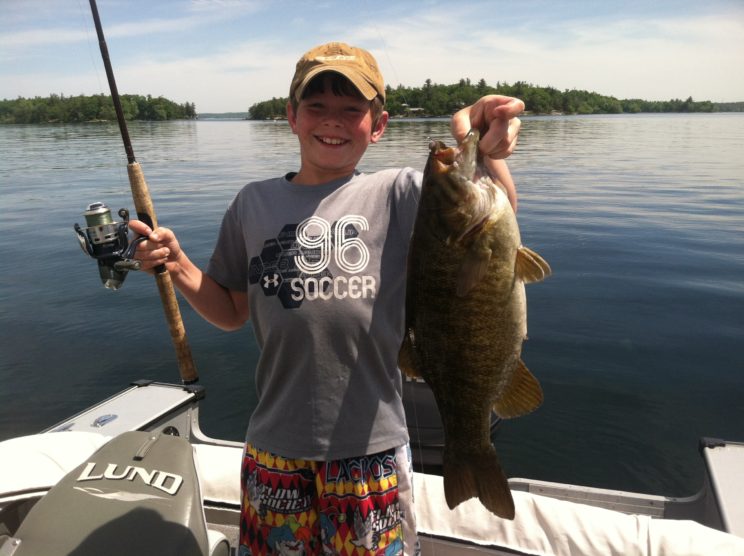 Peace
Mike