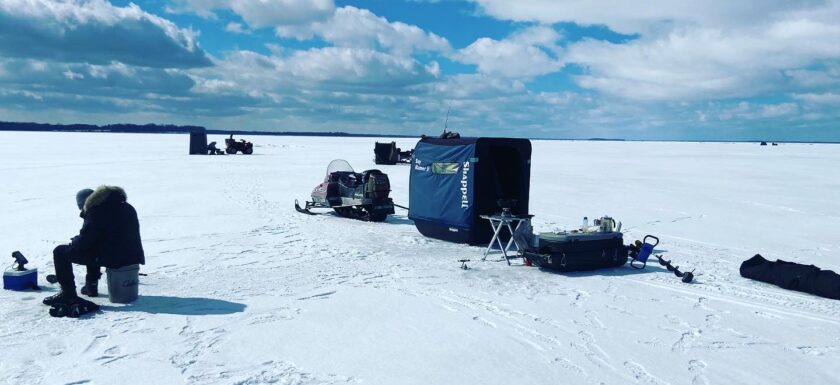 In January of this year four guys from Lancaster Pennsylvania met me early in the morning at a boat launch on a frozen bay of the St. Lawrence River.  The ambient air temperature was around 10 degrees and there was an eight to 12  mile per hour west wind, creating wind chill of negative 10 degrees. We were fishing damn near as far north as a person can get in New York State. The open water of the main river was 500 yards or so distant and on the other side of that was Canada.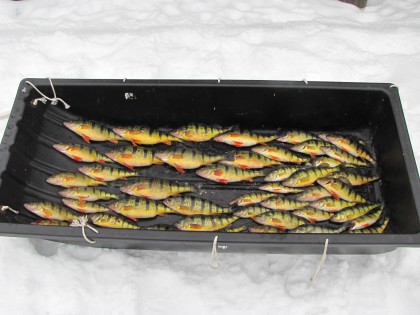 This ice fishing season began as a mild winter. The only safe ice to be found was in the extreme northern region of the state. And this particular bay was covered in six to eight inches of safe uniform ice. It was apparent, however, that just about every ice angler in the northeast was present on this bay as well.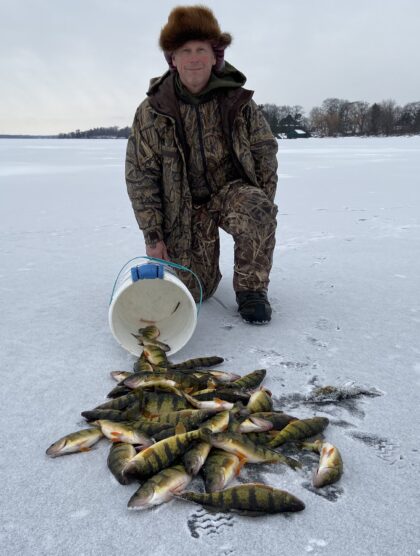 In 35 years of ice fishing I had never witnessed so many people in one place fishing.  I was shocked. It was disappointing from a guiding perspective. It seems inherent that if you hire a guide he or she will take you to a place of relative seclusion. Upon arrival at the congested parking access, it was clear that this was not such a place. And while I assumed there would be others fishing this bay, I did not expect two hundred others fishing this bay.  But the St. Lawrence River has a few fish swimming around in it and with safe ice under our boots, we launched.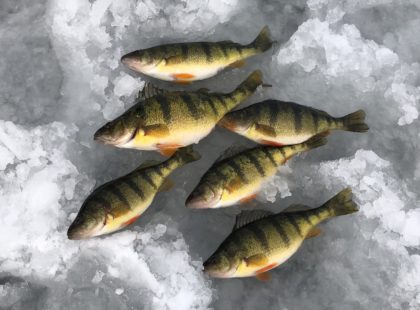 Fishing this bay on the ice and from the boat for years provides me a solid familiarity. It has no secret spot. The whole part of the bay with safe ice is a homogenous four to six foot depth covered in a dense forest of weeds. And because of this feature, or lack of features, it is easy deciding where to go…As far away from the other anglers as is safely possible.
The location we want is at the extreme outer range of the Shanty Town that covers the center of the bay. Creating as much distance from other anglers is the key. Why compete with others for the same fish? After traversing the obstacle course of tip-ups and pop-up shelters to the suburbs of Shanty Town, I had the guys just hang out while I continued north, zipping holes with a five inch lazer auger attached to a cordless drill platform. The ice thickness went from 12 inches to seven inches at 200 yards to the north of Shack City. Plenty of ice so I waved to the guys and they joined me.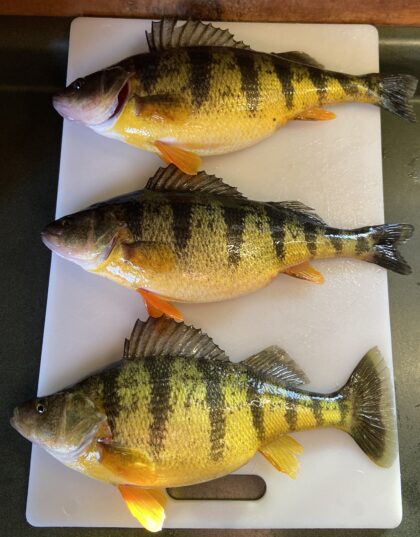 But before we set-up shop, eight or 10 more random holes are drilled and cleaned. Then each is inspected by kneeling down, hands cupped around the side of my face to exclude light, leaning over and peering into each hole. The world on the other side of the ice is one of shallow clear water and I am looking for a small clearing in the thick forest of coontail weeds. Once one is found the shelter is erected over the top, more holes are drilled inside, chairs and rods are handed out, the Mr. Buddy starts glowing and the game begins.
Tied to the end of four pound fluorocarbon, spooled on small spinning reels attached to light and short fiberglass rods, are 3/4 ounce perch pattern Kastmasters. Tipped on the single hook of the Kastmaster spoon is the head of a buckeye minnow. On this particular day we began catching jumbo perch immediately. But as the morning went on the perch slowed down. This we could tell not just from the lack of bites. The fish told us how they felt with their body language. With all the clear plastic windows of the ice shelter closed to block out daylight, we could lean over and look down the hole and watch the perch dart out of the weedy forest into the clearing and strike…or not strike…our bait.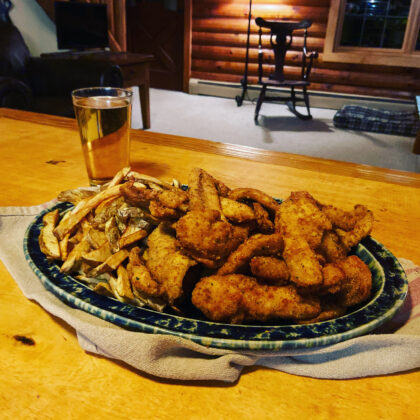 When we first began to fish, the perch slammed the big steel spoons. As they became less aggressive, we down-sized our spoons to  the smallest version of Kastmaster in the same pattern and the guys caught another 20 or so perch. Perch, that earlier would not eat the big 3/4 ounce spoon, would get excited and charge the small spoons, stop short, rev their pectoral fins, and then slam the bait!! Their body language told us what they would eat and what they would not.
Spoons have long been a staple in the tackle box of most ice anglers. While they work in many scenarios they can shine best when used on lakes and bays where ice angling pressure is high. A school of perch grazing randomly through a massive forest of weeds can be "called in" by these flashy offerings. Four or five ice anglers dancing and jigging these glinting and flashing presentations can steer schooled perch in the right direction. And that direction is away from the crowd and into your deep fryer!