23 October 2017
State fisheries biologists undertook a gill netting survey of the lake this past August. They found lake trout numbers to be about the same as usual. They caught no rainbow trout in their nets, but the nets are not designed to catch the rainbow trout I am told. So that is not a reflection of the vanished rainbow population. The angler diaries they collect indicates the vanishing of the rainbow population, coinciding with what many of the hardcore Skaneateles anglers already figured out. The state stocks a combined 20,000 rainbow trout and landlocked salmon in the lake every spring. Angler catch rates on rainbows are at an all time low.
Where did the trout go? Into the stomaches of smallmouth bass is a theory of the state biologist. In a report on Skanetaeles Lake published by the state biologist this past spring, Skaneateles Lake is touted as an up and coming smallmouth fishery.
To ice the cake…A healthy and fast-growing walleye population was found in this summers' netting survey. The biologist believe that walleye will likely become an apex predator alongside the lake trout in Skaneateles Lake and that the future of Skaneateles Lake as a viable rainbow trout and landlocked salmon fishery is uncertain at best.
Wow.
They estimate with some degree of certainty, based upon the age of netted walleyes, that these fish were aggressively and illegally stocked five years ago. They are reproducing in the lake and show very good growth rate.
It was inevitable. Just a matter of time I guess. Skaneateles Lake is now on its way to being a walleye lake and I cannot help but feel like the walleye stocking was someones misguided mission. A mission that has changed the fate of what was once one of the greatest rainbow trout lake's in New York State.
Time to sell some fly rods and buy some planer boards.
Peace
Mike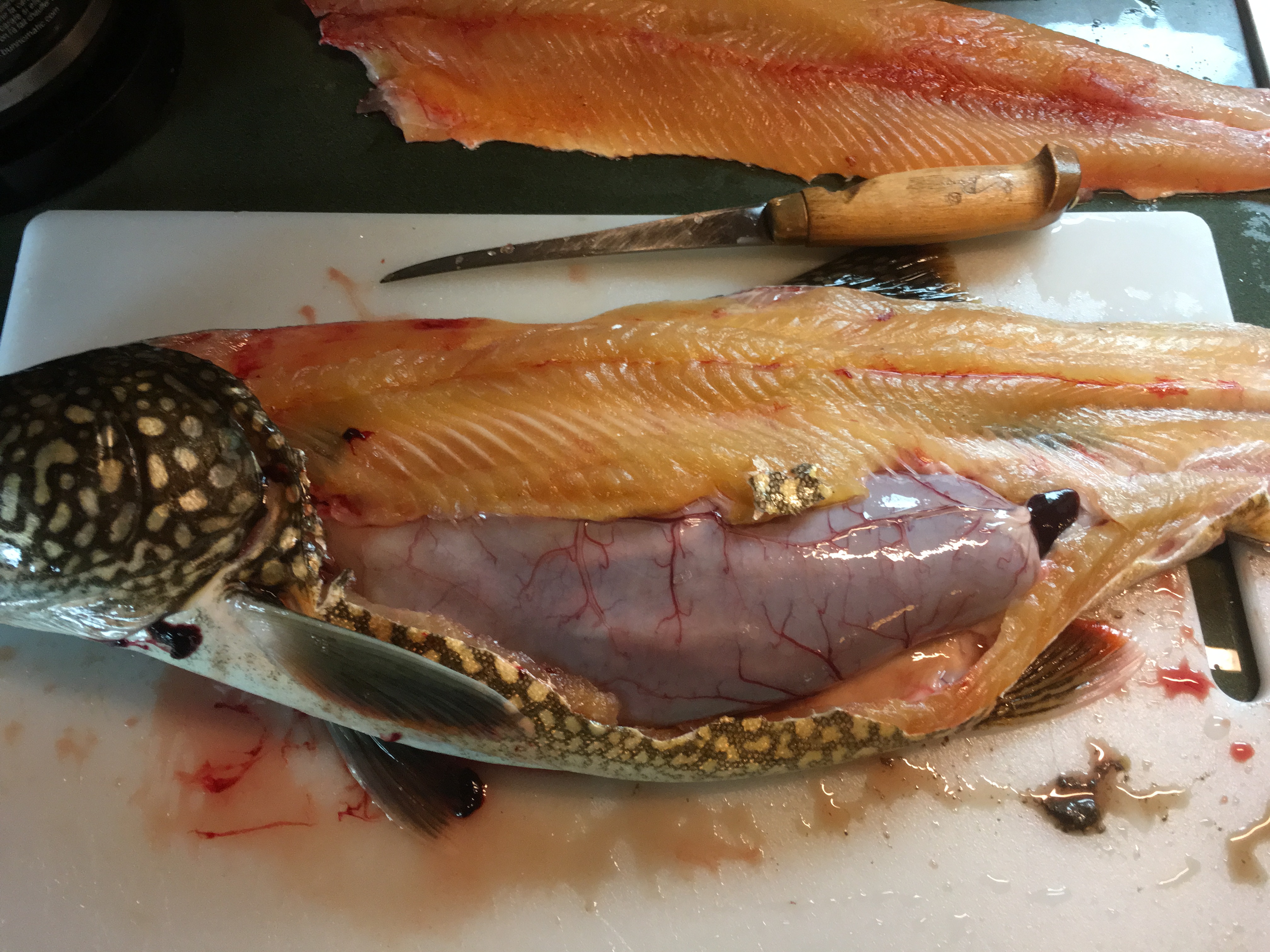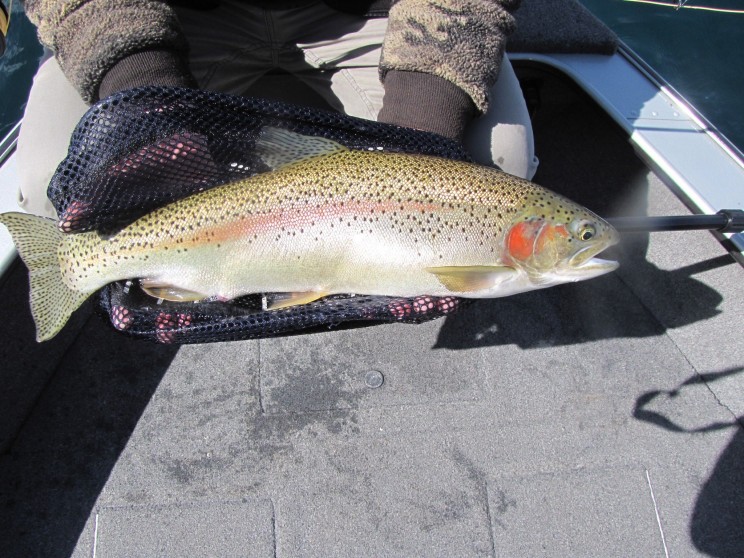 19 October 2017
Pat and his brother-in-law Bob joined me for a morning of lake trout jigging. Pat recently bought a home on the lake and had yet to catch a lake trout. I warned him the lakers had been somewhat difficult as high water temps and stratified lake conditions are remaining into mid October. We found fish in two locations and they were more aggressive than I have seen them in the last few weeks. They were found in 75 FOW. Pat had a couple fish grab his jig but did not connect. Much to Pat's chagrin, Bob set the hook into three lakers and landed each (with a couple misses as well).
A stiff south wind revealed to me that my electric bow prop was falling apart. It made it through the morning, and we were able to hold on fish and have a good time. After dropping off my guests, a closer inspection of the prop reveals it is falling apart. So that unit is out for troubleshooting and perhaps repair, but I doubt it is salvageable. It is time to replace the unit I think. Five years of hard use is acceptable for any of todays equipment.
14 October 2017
Weather was stunning but water temperatures reman higher than normal for this time of year. I usually find surface temps in high 50's by the middle of October, but this years mild temperatures in September and October have kept temps high. The lake trout still in 80 to 100 FOW and bass aggressive. Traditional summer pattern is starting to break with the lakes' smallmouth. The shorter days make for more active crayfish and the fish have turned their attention to the plentiful crustaceans. While fighting, smallies' will expel the contents of their stomach. And while perch fry has been the main ingredient in September, the fish seemed to have recently turned their attention to crayfish. Landed over twenty fish, with one nice one brought to net. Most fish average 12 to 14″.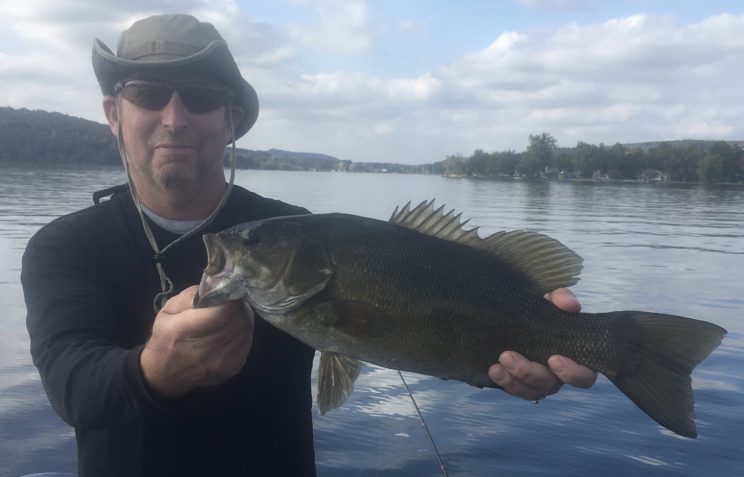 10 October 2017
Day started out overcast with a nice south breeze and my guests enjoyed good fishing for smallmouth and lake trout. Same locations fished but fished seemed more aggressive with overcast skies and light drizzle. The lake is infested with rock bass this year and I have to believe their strong number have an major impact on the food chan and other warm-water species of the lake. Few large smallmouth this year have come to net on my boat. Many 12 to 16 inch sallies that must compete heavily for food with the numerous rock bass. The smallmouth seem to be more mobile however. A school found in one location one day will have to be searched out again the next, while the rock bass stick tight to their reliable haunts.
Lakers still building in numbers adjacent to shallower structure n 80 to 100 FOW. More aggressive today than the other day. Guests landed 7 and dropped as many. Three important ingredients are key to a day of catching fish. Find the fish. Know what they will put in their mouth, and deliver a solid hook-set. If any one of these key ingredients is missing, well, the fish don't come to the net. When guests are fishing in my boat, the fishing rod is in their hands. I take the opportunity to show the proper way to set a hook in the mouth of a fish that has taken the presentation. But this important key to landing fish can often be a challenging skill for novice anglers to learn.
7/8 October 2017
Water temperatures remain in high to mid 60's over Columbus Day weekend. Sunday's weather brought strong south winds that are welcome. Bass and panfish still active in 16 to 22 FOW and my guests were enjoying the hard-fighting smallmouth. Searching for Lake Trout I found small schools of small fish in 80 to 100 FOW. They are confined to the deeper regions of the lake but are starting to gather near deep structure. 
My guests were interested in learning to fly cast so we a couple hours each day working on developing the mechanics of the fly cast. A day spent in a boat in calm conditions with an experienced fly caster is an excellent way to learn how to fly cast.
30 September 2017
A long stretch of beautiful weather was interrupted briefly this past weekend by strong north winds. Saturday morning was wet and cold as a Canadian high pressure system forced a front to the south. The wind created some good current and the cloud cover had the fish active. Surface temps still in the high 60's. A good chop, whitecaps, and big rollers in the southern portion of the lake, restricted my guests and boat to the northwest portion of the lake. Some smallmouth were found but fish seemed to be in transition as current and bait were beginning to concentrate in the sudden change of conditions.
The lake is still very stratified. With the exception of Saturday's weather and wind, it has been extremely calm last several days, creating scattered schools of fish. The mixed bag of warm-water species could be found anywhere combined rocky and weedy bottom was found in 32 to 40 feet of water.
18 September 2017
Having fished the lake two out of the last three last days, I found lakers stacked in 100 FOW. Mostly small fish, 18 to 20 inches in length. The few large marks I found were up high. Laker fishing was slow but slight south wind kept the boat moving today and smallmouth were active. 
The shallow margins of the lake are infested with rock bass that are on the feed constant. The crayfish and fry from this past spring's hatch are active and plentiful, all the caught-and-released fish landed on my boat in last two weeks appear to be feeding hard and are fat and stout.
The cold water fish, the trout, seem lethargic. This high pressure system parked on us for days may be why. Wind dispersed the alga bloom this morning but lake is still turbid and warm. In a week or two strong south winds will begin to turn the lake over. And then the real fishing begins.
Talked to a gentleman who helped the DEC with their survey netting program a few weeks ago. Very few rainbows or salmon were counted in netting results. Seems like the lake could use some good news.
15 September 2017
On occasion I stop into the local bait shop during the winter months. The only time I fish with live minnows is under the ice. During small talk with the owner he mentioned that a guy came in to the shop claiming to have caught a walleye in Skaneateles Lake. Since I believe little of what the bait shop owner says…I was skeptical.
That was in February of 2014. But then in August of 2015, I was hovering over a school of fish near a  weedy rock pile in 32 feet of water when a guest reeled in a 10 inch walleye. A small  but nice looking walleye that was vibrant and healthy. Just this past Tuesday I was fishing Skaneateles Lake with vacationers from Germany. While drifting over scattered rocks and sparse weeds, in 32 feet of water, one of my guests reeled in a 13 inch walleye.
The presence of walleye in Skaneateles Lake is interesting, but not surprising. To the east a short distance is Otisco Lake with an established walleye population. And to the west a short distance is Owasco Lake. Owasco Lake has a remnant walleye population still hanging on as the result of a failed private effort to stock walleye several years ago.
While these lakes are not connected in any way, their proximity to each other would accommodate the illegal transfer of fish from one lake to another by anglers. That is what has taken place. The NYSDEC knows the situation, but understanding the effect an established walleye population will have on the food chain in Skaneateles Lake remains to be seen.
5 September 2017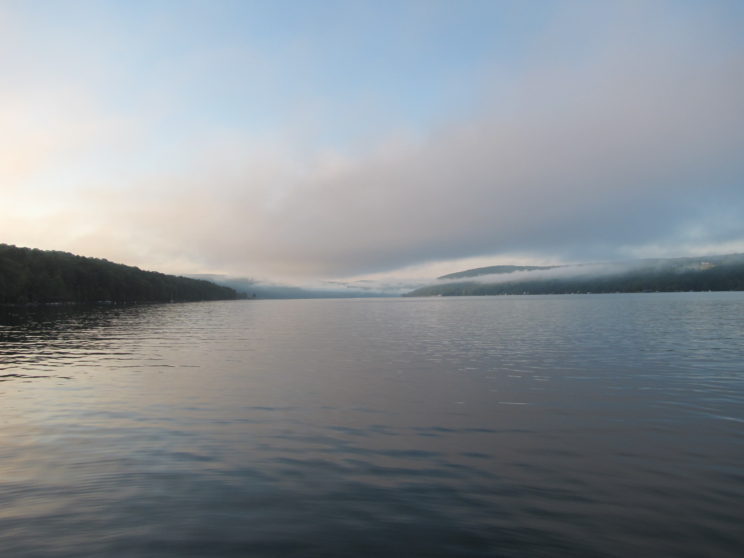 The summer of 2017 marks the 15th season I have been guiding anglers on Skaneateles Lake.      I have met many people and have come to develop a respect for this spectacular lake.
Over the years I have seen the lake change, watched trout populations rise and fall and grimaced as the lake grew into a local fishing and boating mecca. I have always practiced catch-and-release light tackle and fly fishing on my boat, even been vocal about the value of catch-and-release on the lakes' trout. But the simple fact is, Skaneateles Lake is managed as a put-and-take fishery. New York State puts tens of thousands of stock trout in the lake and anglers take them out.
Effective trolling techniques practiced by weekend anglers who creel a few trout for a meal on occasion have no impact on a trout population. The charter boat captain, however, soliciting vacationing tourists for cash to catch their limit of trout, day in and day out, has an impact.
Meat fishing, trolling, is fine. The sheer size and volume of Lake Ontario for instance, the greatest put-and-take trout fishery in New York State, can handle daily creeling of limits of fish with no noticeable impact. Year after Year. The professional captains working Lake Ontario take their game serious. They bag trophy fish in a challenging environment that can sustain such harvest season after season.
Smaller lakes like Skaneateles Lake are different. When the lake stratifies in summer the trout are constrained to specific depth due to water temperatures and oxygen levels. During this window of time (only a couple months of the year) summer trout populations are located with advanced sonar and GPS systems. Once found, dragging treble hooked plugs and spoons through the susceptible fish over and over again can quickly turn a limit of trout.
I think greasing limits of trout for vacationers in exchange for cash is unsportsmanlike. While trout are stocked it does not make them less valuable or infinite in number. They are a resource that could use more respect and less exploitation…Wherever they exist
If a cooler of dead trout means a successful fishing trip, perhaps you should re-think why you are fishing.
Remember the words of the late Lee Wullf;
"Trout (stocked or wild) are far too valuable to be caught only once".