1 April 2019
The first open-water guided fishing trip of the year! Three inches of fresh snow carpeted the lakeshore and boat launch when arriving at noon. Dave, my guest, was staying at The Sherwood Inn in the village and wanted to get out on the lake for a few hours. There was a strong northwest wind, clear skies and air temps around 33 to 35 degrees.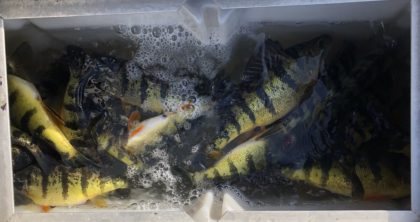 I picked Dave up in the village and since he did not have any preference to what species he caught I took him to the spot I have been perch fishing. The perch were still there and Dave caught one on his firstcast! He caught more than a enough for a meal so we left them, and since it was the official statewide opener of trout season, I thought we would try our hand at a little rainbow trout angling on the lake with light tackle.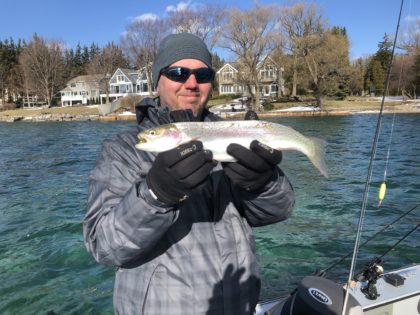 The first location I delivered the fly turned up a medium sized rainbow. Two more takes followed with one fish lost and the other take missed. The water temps were one degree warmer (38.5) in this location than other areas in the lake. A safe, enjoyable and successful trip to kick off the 2019 season on Skaneateles Lake!
30 March 2019
The vast schools of jumbo yellow perch have my attention. So in the next couple of weeks, when schedule and weather permits, I will launch for a few hours to harvest a couple dozen of these tasty fish. Any fish from Skaneateles Lake is very delicious. The cold clean water lends itself to producing firm and tasty fillets. And while this is good for the angler who wants to catch a few fish for a meal on occasion, it makes the catch-and-release of trout and other game fish in the lake uncommon.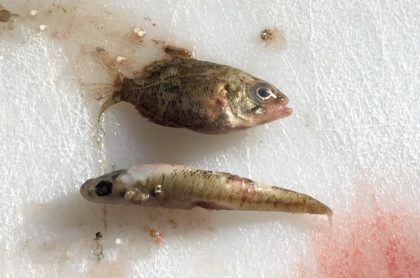 This past Friday I returned to find the perch right where I had left them. Schooled thick over scattered rocks and thick weeds in 18 FOW. The perch are aggressive and feeding hard on baby rock bass and sculpin minnows as well as last springs perch fry. Water was 38 degrees at surface.
28 March 2019
Clear skies and calm winds were difficult to ignore this afternoon so I launched for a couple hours of fishing. Besides the fine weather, I needed to blow the cobwebs off the Lund and make certain all systems were go as the open water guiding season is now here.  With no safe ice for three winters in a row, in addition to a very wet and blustery April last season, I assumed the lakes' yellow perch population would be quite ripe and that this Spring would be a good one for harvesting these delicious fish.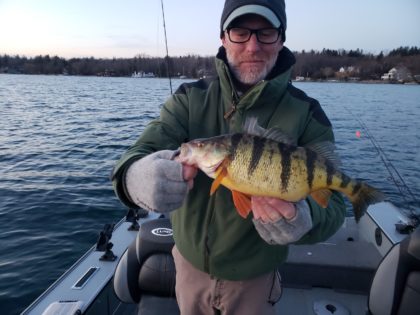 I was not disappointed by the perch fishing. And learned that I had a dead battery in my 24 volt system that powers my electric prop. The perch were schooled in 18 to 21 fow over thick weeds and were aggressive. It took myself and a friend a short time to gather enough for a solid Friday evening fish fry.
What are they eating? Themselves it appears…Among other things. The water temp was 38 at surface, which is up two degrees since Sunday. The clear skies and bright sun helped the water temperature rise and smallmouth were active as well.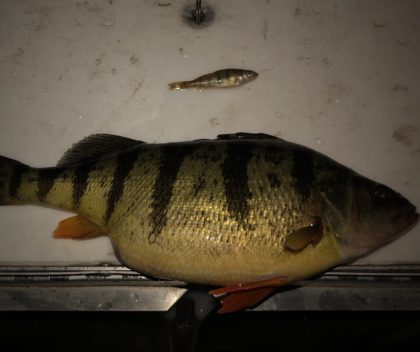 Peace
Mike

24 March 2019
The NYSDEC held a State Of The Lake meeting concerning Skaneateles Lake this past Wednesday evening. The topics were water quality and the management of the lakes' fishery. The presence of walleye in the lake was the hot topic as walleye are not native to Skaneateles Lake. In the summer of 2014 a guest on my boat reeled in a 12 inch walleye while angling over shallow weeds and rocks. It was a surprise. In 2016 another walleye, about 14 inches in length, was hooked and netted in my boat in the same area.  In 2017, the local outdoors writer caught a walleye from shore in the Village of Skaneateles and it made headlines.
In the summer of 2018 the NYSDEC performed their scheduled four-year netting survey of the lake. They caught nearly 100 walleyes in their nets and determined, based upon the size and quantity of the fish and other scientific factors, that walleye have established a breeding population and are likely to only increase in numbers.
According to the biologists, once a population of walleyes is established in a trout lake like Skaneateles Lake, if left unchecked, it is inevitable that the walleye will become the apex predator in the lake. The cold water sports fishery of rainbow trout and landlocked salmon will disappear. The annual stocking program to support the trout fishery will be discontinued. This is what will happen on Skaneateles Lake if the walleye are not managed.
The walleye were introduced illegally by misguided outlaw anglers, transplanted from other nearby lakes over the course of several years. A healthy walleye population in the 9,000 acre lake has established itself. Who did this and why, is now, of no consequence. What is important now is what steps can be taken to reverse the growing walleye population and preserve the trout and salmon fisheries program.
At last Wednesday evenings meeting the crowd of 80 or so anglers spoke up overwhelmingly in support of maintaining the rainbow trout fishery and in support of implementing a management plan to control the walleye population. The NYSDEC biologists held the meeting to gain this type of feedback. The concern of local anglers to preserve and protect Skaneateles Lake as a premier and unique rainbow trout and landlocked salmon fishery is evident. I am hoping this sentiment will gain some momentum and strength and guide the future fisheries management of the lake.
The proactive approach to offering a public forum and taking input into the management of a lakes fishery is a relatively new and effective tool utilized by the state biologists. It allows the biologists to understand if the work and goals they are undertaking are in-line with the local anglers who utilize the resource. Unfortunately, the state biologists often lack the necessary resources and manpower and are buried under tremendous workloads, forcing them to prioritize their energy and efforts. This can sometimes leave issues that are of great concern to a handful of anglers relatively low on the "to-do" list.
If enough anglers and non-anglers alike show support for the Skaneateles Lake trout and salmon fisheries program the state will be forced to pay attention..forced to understand that Skaneateles Lake, its ecosystem and its intact cold water sport fishery, is very important to Central New Yorkers. This will be the most valuable impetus to helping biologists quickly develop and implement a walleye management plan for the lake in an attempt to save the trout.
Skaneateles Lake is an environmental icon in our community. Its trout fishery is one steeped in history…An invaluable cold water fishery too significant and unique to give up on. Its trout fishing heritage, just like its water quality, needs to be preserved and protected so our kids can experience the same high quality trout fishing this magnificent lake has provided for generations.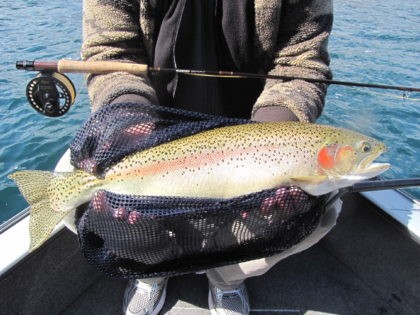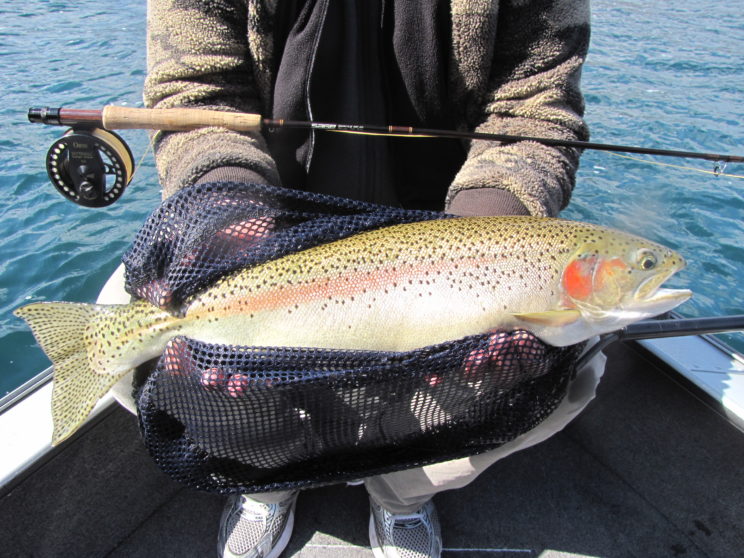 To help save the Skaneateles Lake Trout & Salmon Fisheries Program please contact the NYSDEC Region 7 state biologist, your local politicians and voice your support.
Thanks,
Mike
The Months Of September And October 2018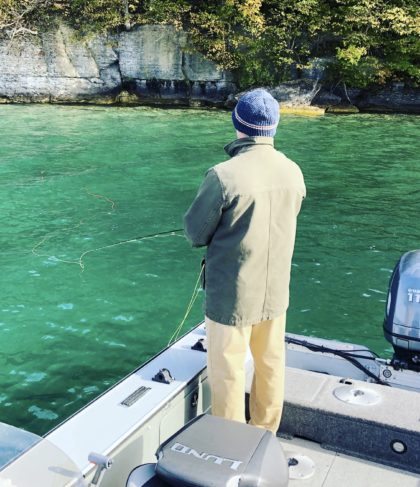 I am a terrible blogger. Entire months of fishing the lake has escaped my capture here. As I have always said, when it comes to lake fishing September is a repeat of August. Water temperatures are slow to decline and the lake does not experience any significant changes in temperature until mid-October.
The bass fishing was very good for my guests the entire month of September. It became better as October progressed, and now, late October, the smallmouth are ON FIRE!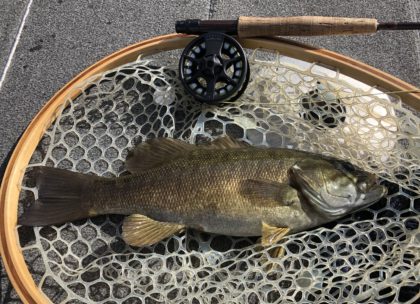 But I am no longer interested in them. In fact, I wish they would complete their feeding frenzy and lay down for the remainder of the year. Its trout time!
Water temperatures ranged between 58 and 60 on the 19th of this month. This is the first day I was able to catch rainbow trout on a fly in the shallow margins of the lake. By Monday the temperatures were below 60 everywhere and hovered around 57 at surface. The trout fishing in the lake will be very good for the next several weeks. The weather may not be and that is typical for November in Upstate New York. Yet with a few more trips on the calendar, I look forward to the crisp and short Autumn days ahead spent fly casting to rainbows on the vast open lake.
The whining of outboard and jet ski engines is gone. The deep bellow of the tour boat gone as well. The lake has lost its decoration of countless moored boats. Swim platforms and floating docks have been dragged on shore.  And I reunite again, as I do each year, with the lake in its Autumn moods… With colors and skies that I have come to love as I deliver my fly over and over again along its now lonely shores.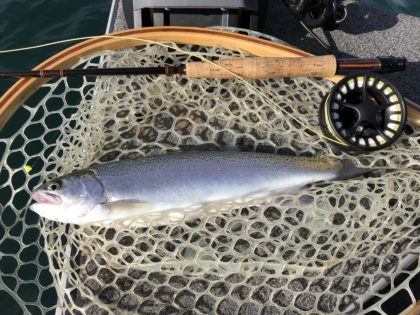 Peace
Mike
26, 27, 28 August 2018
Fishing remains fair to very good for smallmouth bass with light tackle in the shallower margins of the lake. I have not seen much activity form the trolling armada in the last few weeks. Several years in row of killing hundreds of trout via trolling has taken its toll on the population of mature trout roaming the thermocline this year. The low rainbow trout numbers are a result of a combination of factors however.
Rumor has its some anglers have been targeting walleyes on the lake with some success. I believe half of what I read and none of what I hear. Especially from anglers. I don't mean that as an insult or a remark to the character of fellow anglers. Experience has taught me, however, to take what I hear from anglers at the boat launch with a grain of salt.
Just as the lake is slow to rise in temperature in the Spring, it is likewise slow to cool down in the Fall. September will see more isolated algae blooms on the lake and a slow transition into Autumn conditions.
October is the month I look forward to!
Peace
Mike
19 & 20 August 2018
The Hilltop Diner in Skaneateles is where I meet my guests in the morning these days. Excellent food there…And I have gained a few pounds this summer because of it. The diner being my early morning meeting place is good for the diner I guess…but inconvenient for me and my guests. Especially the ones that are on a diet.
Why would people who bought a New York State fishing license — and hired a New York State licensed fishing guide to take them fishing — not be able to legally park at The New York State Skaneateles Lake Fishing Access Site?
That's a good question isn't it?
Every Saturday and Sunday in July and August the New York State Fishing Access Site on Skaneateles Lake is full of jet ski, pontoon boat and pleasure boat trailers. Few of which are fishing!
"Thats not accurate" I was told by the NYSDEC ECO who patrols the area during a recent conversation.
I beg to differ.
Pleasure boaters, without a doubt, make up 75% of the vehicles and trailers parked every weekend all summer long at The New York State Fishing Access Site on Skaneateles Lake.
Period.
But my guests, who have fishing licenses, that are in town to go fishing, CANNOT LEGALLY PARK their car in one of the spots designated for vehicles without a trailer at the NEW YORK STATE FISHING ACCESS SITE!
It's a crock.
Oh yah. Fishing remains excellent for smallmouth.
Peace
Mike
14 & 15 August 2018
Surface temperature is starting to decline and I found it to be 74 on the morning of the 14th. The lake was cloudy with algae however. North winds turned to the west and shifted the locations of schooling bass that I had been keeping tabs upon. Once winds set up for a while I was able to find scattered schools of medium sized bass.
My guests enjoyed good fishing both days. The shallow margins of the lake, 25 to 10 FOW are infested with rock bass. They won't leave the shallows. Its out of their comfort zone and they cling to the rocks. Meanwhile the smallmouth suspend on the edge and venture out over deep water in search of the large schools of perch fry that are wandering over the deeper regions of the few flats and rocky shoals/structure that exist on Skaneateles Lake.
While it can sometimes take a while, and wind is the determining factor, once the schools of bait are found, the smallmouth soon make an appearance!
8 August 2018
The rains came and a stiff south breeze kept things moving and the fishing good today. I got soaked in a downpour with a family of three in the am. Then dried out. Then soaked again with a solo angler in the afternoon. Then dried out again as the fronts moved north and the sun came out.
Interesting day! Fishing was good on leeward side of structure. Bass puking up tiny perch by the dozen.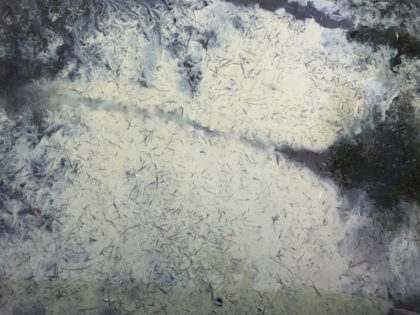 The water was cloudy with algae almost to Five Mile Point, but I did not see a "bloom". Surface water temperature was 78.
I snapped the pic above next to the docks in the village
3rd 5th and 6th August 2018
Cloudy overcast skies and steady south wind had the lakes' smallmouth all fired up this week! The young of the year fry (tiny minnows) have moved out of the shallows and gone pelagic. The smallmouth (all the lakes fish) are keying in on these clouds of small perch and rock bass minnows that are driven by wind over shallow structure.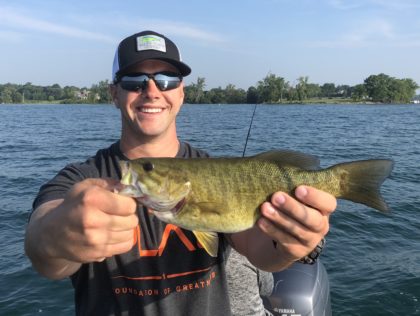 Small soft plastics fished drop shot with 7'6″ St. Croix Premier Rods has been killing the bass and perch in 18 to 22 FOW over scattered rocks piles and mixed weeds and rocks.
The surface temp was 78 degrees yesterday, the 6th. Syracuse.com is praying that the lake has an toxic blue green algae bloom so they will have something to write about!
It was looking like it might happen lake-wide but heavy rains cooled things down. Some blue-green algae present at the north end near village however. Nobody swimming in the village but kids in the lake all over the place elsewhere on the lake.
The Month Of July 2018
The July of 2018 was indeed the finest I can remember. Day after day of beautiful weather kept Upstate Guide Service busy. I lost track of how many trips I did on Skaneateles Lake. It was the single busiest month my guide service has ever had in fifteen years.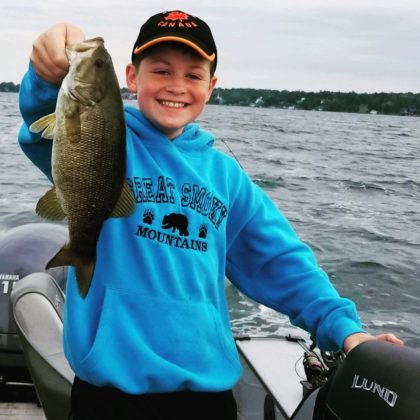 Calm hot weather with clear skies is not a weather condition I dare complain about. Not as a native Central New Yorker. When the sun is shining for days on end you just enjoy it, take a mental snapshot and tuck it away in your mind to bring out in January when you find yourself shoveling snow and de-icing the car.
The fishing on the lake, on any lake, is challenging when the sun is bright and the surface is smooth. Winds that build and sustain for any period of time would make the fish active and my guests would enjoy good fishing.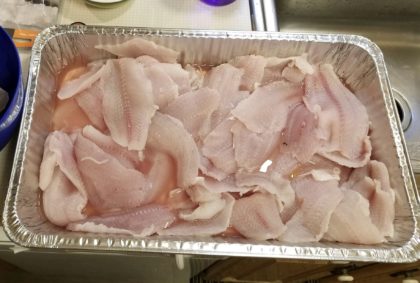 When the lake was flat I would search for schools of lake trout in deeper water… With limited success. This past season saw the lowest number of native Skaneateles Lake trout brought to net ever on my boat. But I cannot correlate that fact with anything. They just were not where I was looking for them in any real numbers.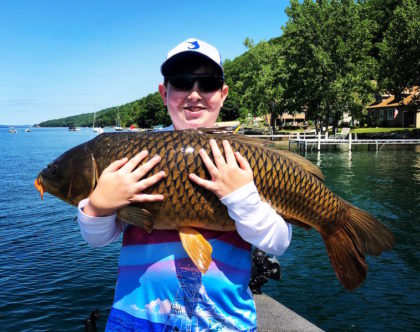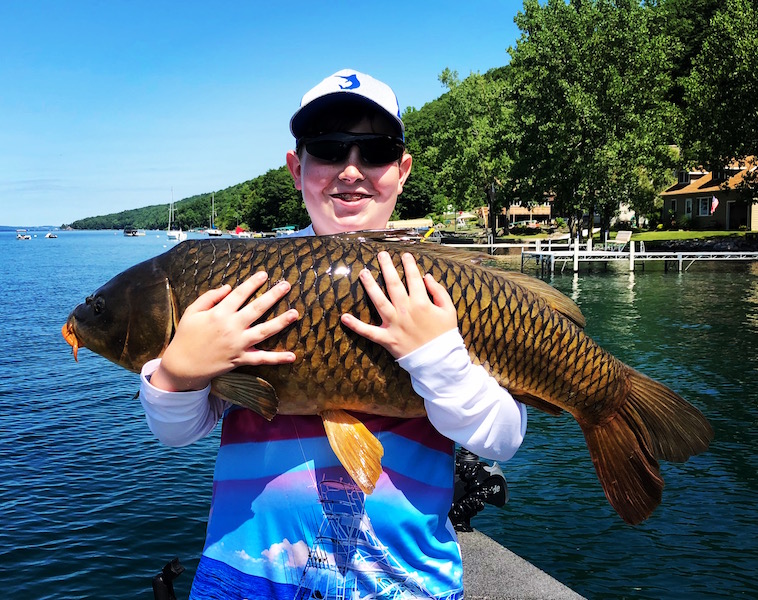 The lakes smallmouth bass population continues to do very well. The lake is infested with these hard fighting fish, so I target them as they make for an enjoyable fishing trip for vacationing families!
They make great fish tacos too!
Peace
Mike
29 June 2018
Lake was flat calm when we arrived at launch at 0530 hrs. Jigging for lake trout over 80 from was fairly productive with a dozen small fish brought to net. Schools of fish seemed more abundant but size was lacking. By 0930 hrs the bite slowed down and we abandoned the deep water and went in search of smallmouth bass.
Many bass were still on spawn beds while many others had moved off beds and were hungry. Drop shot rigs worked the best.
19 June 2018
Launched at the NYSDEC Anglers parking area. My guests, Tom and his son Sam, followed me there and parked their car in one of the vacant spots reserved for vehicles without a trailer. He had an inflatable raft in the trunk of his car… so he was legit. And it being a Tuesday morning, traffic at the launch was light.
Hunting lakers over 65 to 85 FOW proved fruitless. We hooked a few small ones but found no concentrations or large schools of fish. With the smallmouth moving off their beds and hungry, I quickly transitioned into bass fishing to get my guests into fish.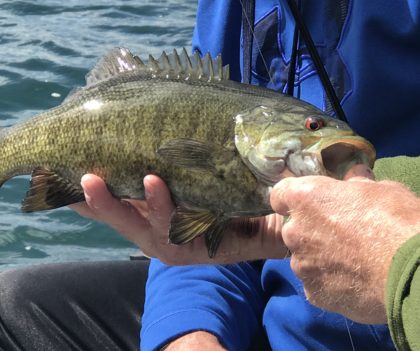 Many of the bass all dressed up in their spawning make-up with bright red-eyes, dark fins and prominent markings.
16 June 2018
Arrived at the NYSDEC Anglers Boat Launch and Parking Area on the west shore of the lake at 0510 hrs. My buddy was coming to join me and was a bit behind schedule. The Town of Skaneateles Constable was there at that early hour however. While rolling down the hill to the ramp I stopped so he could inspect my boat for traces of invasive aquatic hitchhikers. No hitchhikers present.
There were four other rigs in the parking lot and two boats launching on what was the statewide opening day of bass season. Not too busy. Smallmouth bass may be fished for and caught all year in Skaneateles Lake. So statewide opening day is a nothing.
I launched the Lund, tied it to the outside dock and parked my truck and trailer in the 95% vacant four acre parking lot. My friend arrived and pulled his truck into one of the four empty parking spaces designated for vehicles without a trailer. The constable approached him and told him the spot is for vehicles with car-top watercraft only and that he had to leave. Like leave leave. As in exit the whole parking lot with vehicle and go find another place to access the lake.

Down the lake to the south a few miles is the Town Of Mandana boat launch. A location my friend and I are quite familiar with. Upon arrival we found a newly constructed (paint still wet) kiosk that required a deposit of ten dollars to park for a vehicle and twenty for a vehicle with a trailer attached.
Also noticed that Skaneateles Marina has added another 50 or more floating boat slips to their dockage and mooring area on the lake.
I wonder what they cost?
Oh yah…We fished. Water temps at surface were  60 ish'. Some small lakers around. Most of the big smallies were  spawning and blind fishing them was tricky in th clouds and chop. Off the lake by 0930 hrs.
Peace
Mike
09 June 2018
Launched fairly early with a friend to again search the deeper structure for lake trout in transition. The fish were more abundant and a bit more aggressive. We landed three and let a couple go. Missed a few hits and dropped some trout in three hours. The sonar shows numbers improving. Water temp at surface was 55 degrees. Several trout or salmon were rising on the calm surface of the lake out over deep water. Tremendous amount of plant and insect debris in the film of the lake. As water temperatures continue to climb the aquatic insect activity will as well.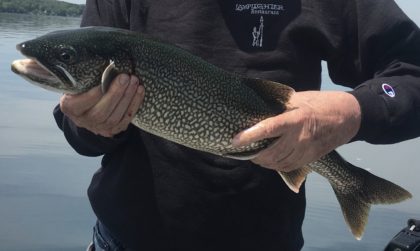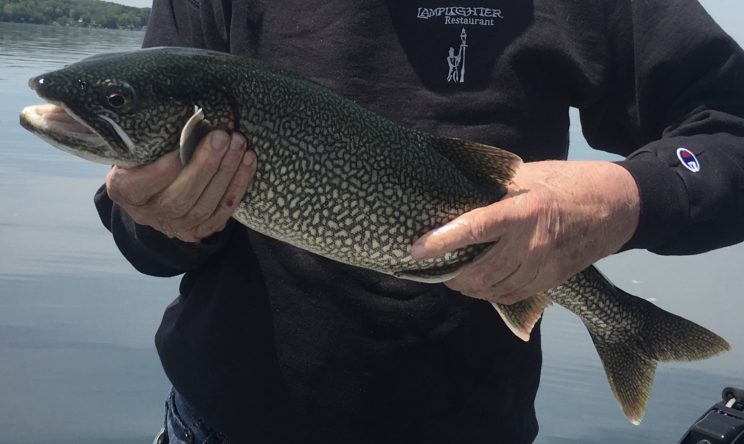 While I am keeping tabs on the lakers with the spinning tackle…The rainbows and salmon are ripe for the fly caster right now!
27 May 2018
Early morning outing with my son and a couple friends to look for lake trout. Water temperatures were around 50 at surface in 80 FOW. Immature lake trout were found in some numbers on and around structure in 55 to 85 FOW.. We hooked a few but had many others refuse our jigs and show little interest. No big trout were seen (marked). It appears to me that the shallow water temperatures are still quite hospitable to the lakers and they are still roaming the weeds and rocks in the twenty to thirty foot (and shallower) zones of the lake.
25 May 2018
Spectacular weather remains in the Finger Lakes through the holiday weekend. Ron from Boise joined me on the lake for a couple of hours of drifting and fly casting. In addition to a nice fat rainbow he caught several smallmouth. Water temperatures have exceeded fifty degrees and the fish are feeding! The lake should fish excellent over the next eight to ten days. The bass will compete with the trout and in some areas they will force trout out of the shallow water. But insect activity is rising to peak and the cruising rainbows are beginning to key in on what is floating on the surface. Which makes for exciting fly fishing!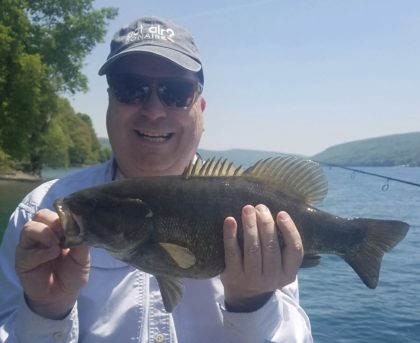 I have not seen an exodus of the lake trout from the shallow water yet. But as shallow water temperatures continue to climb into the high 50's, the lakes' char will retreat to the depths. And I will be hovering above them with 3/4 ounce jigs ready!
22/23/24 May 2018
Nick, Ron and Jack made the journey to Skaneateles from Fredericksburg, Virginia. Day one of their three day fishing trip was a wash out with strong south winds. (The first real weather we have had in days). The guys opted not to fish in the rain and wind. The following a day was clear and the winds were gone. Surface water temperature was at 44 degrees at the surface on Tuesday but began a steady climb through the next two days to reach 47 by mid afternoon on Thursday.
Lack of wind was an issue in the morning. So I took the boat to some areas of the lake where I thought lake trout would be schooled. But there were few around and the ones that were around were small. We landed a few with none over 20″ in length. That is the average size caught. My guests had never seen a lake trout before and enjoyed the lake trout fishing, although it was slow.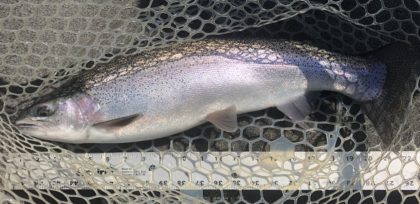 Around noon each day the breeze built up enough to get a drift going. Several rainbow trout from 18 to to 24 inches were landed on flies. The smallmouth are waking up and becoming active. Several large jumbo yellow perch were caught as well.
20 May 2018
Just when things were beginning to heat up on the lake…Mother Nature decided to cool us down. A low pressure system came in early Saturday morning and brought strong winds and low air temperatures. The areas of the lake where water temps were beginning to climb into the high 40's and low 50's mid week were set back. Water temps at 42 degrees…again!


The rain was heavy and the wind did blow, but Pj and his son Jack, from Connecticut, were well prepared. We hunkered down and fished but the trout proved difficult through the morning. After lunch the skies began to clear and the showers subsided. A light northwest breeze set-up and we were able to drift and connect with several fat and healthy rainbow trout.
When it comes to fishing big open lakes, or anywhere, as long as conditions are safe you take what you get and make the best of it. You persevere.
I will be guiding both fly fishing and spin fishing on the lake the next five days.
17 May 2018
Ryan had just completed his sophomore year of mechanical engineering at SUNY Binghamton. His dad Bob came up from Staten Island to pick Ryan up and they detoured to Skaneateles Lake to do some fly fishing and relaxing. I met them at the launch and found the lake to be flat. Not a stitch of wind and not a ripple on the surface of the lake. In the spring of the year the stunning high pressure systems that warm the clear cold water are accompanied by a complete lack of wind. Double-edged sword for the lake fisherman. A breeze is necessary to effectively catch fish in the shallow margins of a lake with tremendous water clarity.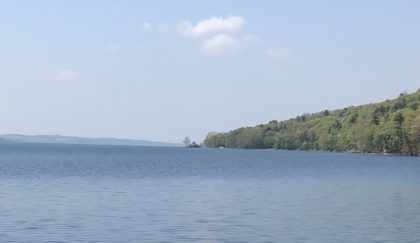 While we floated about the lake, waiting for the wind to build and fix, we spied on the fish in the shallow water. We watched trout swim by, viewed thousands of perch and hundreds of suckers and many smallmouth bass.
The morning fishing was slow.
Around 10:00 am we felt a breeze! The surface of the lake gained some texture and the boat began to drift and the rainbows let their guard down and smashed our flys! Water temperature was 47 ish.
Big fun and a beautiful day!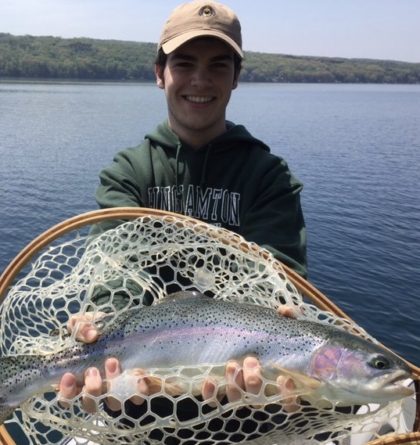 15 May  2018
A relative humidity of 100 percent created a heavy fog that shrouded the lake Tuesday morning. With limited visibility, I crossed the lake to a seasonal cottage where I picked up Rob from San Pedro. By 0700 hrs a breeze formed enough to lift the fog and the lakes' shoreline became visible. The southerly breeze created an excellent drift and the trout were found in a few locations. Water temperatures were around 45 to 47 in areas we drifted.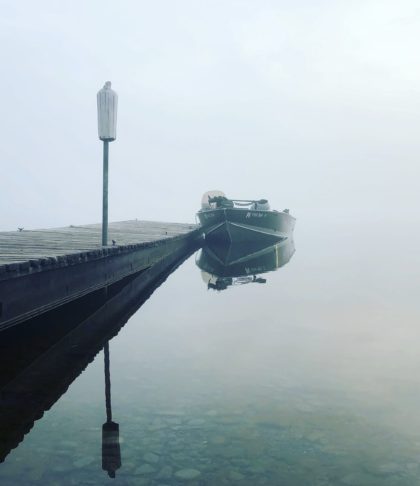 Suckers rolled on the surface on the gravel points as they spawned in the lake and trout rose to hatching midges. Each of the female trout we landed were with eggs and showed tail wear from the digging of redds. I believe many of the trout find suitable gravel and oxygen in the lake to spawn and do not migrate up the tributaries.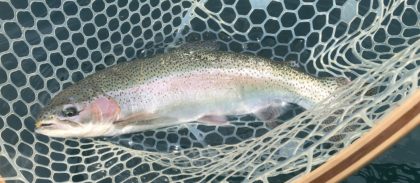 The water temperatures are climbing slowly and the lake is coming alive in conjunction. Smallmouth bass are beginning to become aggressive.
The lake was as beautiful as ever and the fishing was very good.
12 May 2018
I picked up a couple guests in the village for a couple hours of fly casting. The high pressure system, clear skies and slight breezes we enjoyed earlier in the week were gone. A stagnant low pressure system was parked on the lake and the surface was like glass. The low gray cloud cover made visibility poor for seeing structure and weeds, the primary targets for early spring trout in lakes.
No trout were caught our seen. There was one other boat on the lake. I anticipated the fly fishing for rainbow trout to be poor in these conditions. And it was. With some exceptions, I can arrive at the launch and look at the lake and have a pretty good idea of what the fishing will be like. I cannot rely upon forecasted weather to dictate though. The forecast may give a clue as to what to expect, but I have to go and physically look at the lake to really know. Upon arrival at the launch Saturday morning, I knew, with a glance…It was going to be tough. Take the good days with the bad, and it is always enjoyable!
8 May 2018
Joined a friend for a few hours of fly casting on the north end of the lake. The awesome weather beckoned and neither of us could resist a mid-week opportunity to fish for rainbows. When water temperatures in the lake are hovering around the low 40's, the trout tend to hold "bankers hours".  So we arrived at the launch at 1100 hrs to find the lake flat. The forecast called for a slight wind to build however as the morning progressed into early afternoon.
Without even a ripple or slight hint of a breeze, fly casting was pointless.So we floated around the aquarium and spied on hundreds of suckers and perch and smallmouth bass that laid on the bottom structure, clearly visible in depths of over 25 feet in the crystal clear water.  A breeze is essential to break the surface of the lake and camouflage the boat and anglers to allow getting into casting range of trout without spooking them.
Finally, the breeze built into a soft west wind and we delivered the fly to likely locations with some success!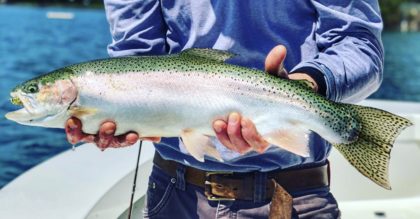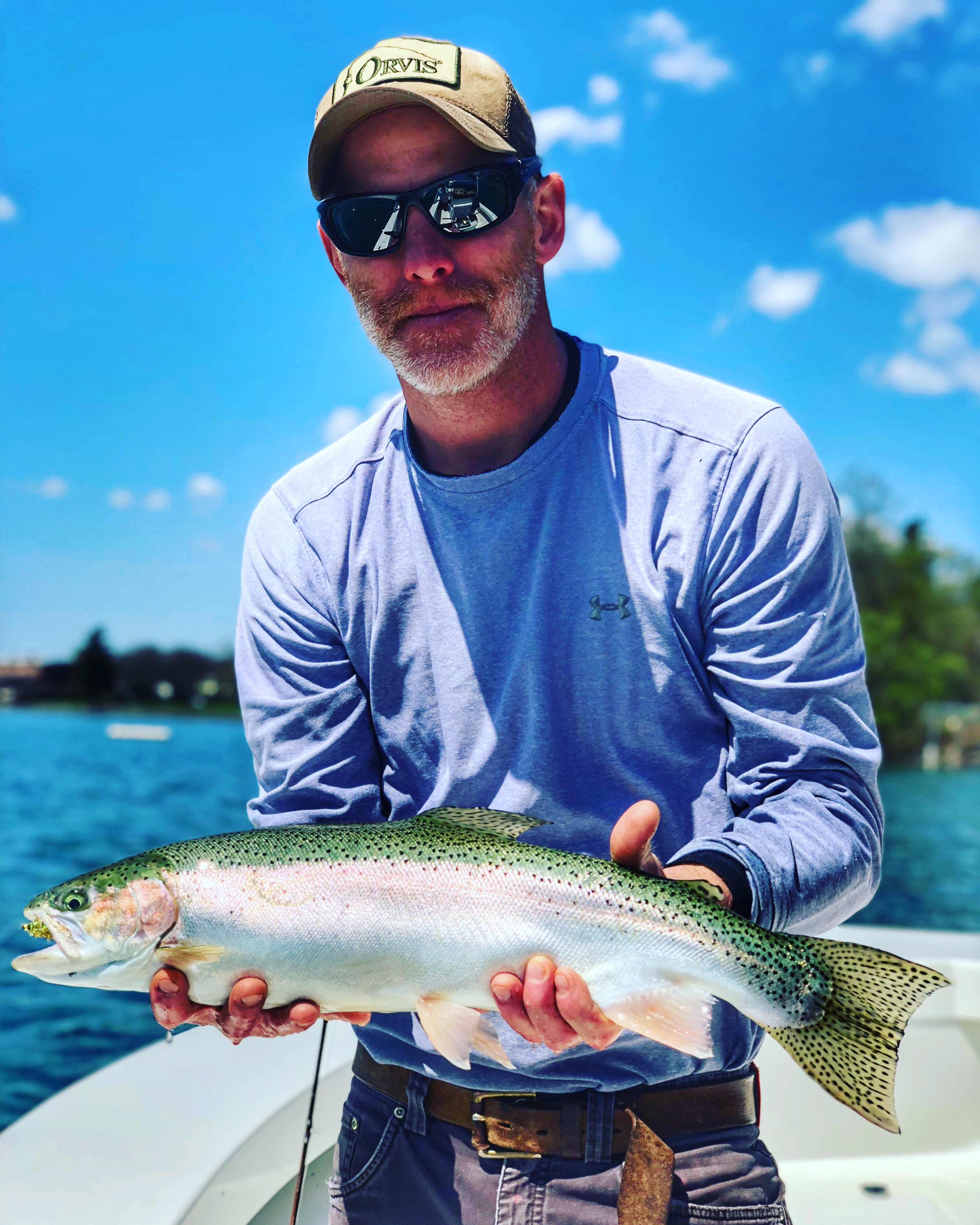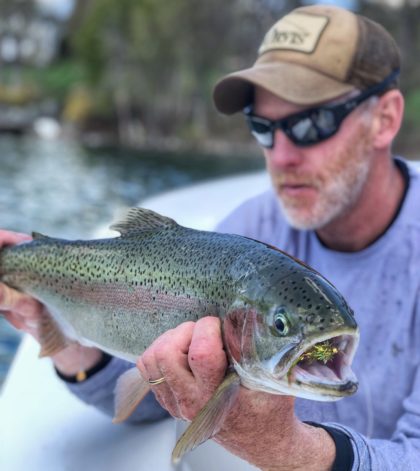 Stunning weather. Gorgeous lake. Beautiful trout. Catch and release.
Peace
Mike
20 April 2018
I finally launched the Greyghost 2 on Skaneateles Lake for the first time out this year. While I had a couple trips on the calendar with some local fly fishermen, the weather and cold temperatures required the dates be postponed. Experience has taught me that besides the yellow perch and lake trout, the rainbows are difficult when the temperature of the lake hovers in the mid to low thirties. The perch bite has been hit or miss as well I gathered from friends. So while I was eager to fish the open lake, I have been enjoying steelheading on local creeks, waiting for some nice weather to show up and get the water temperature in the lake rising.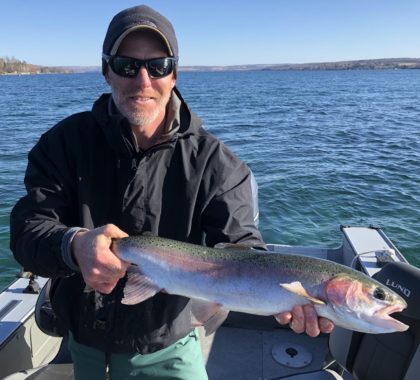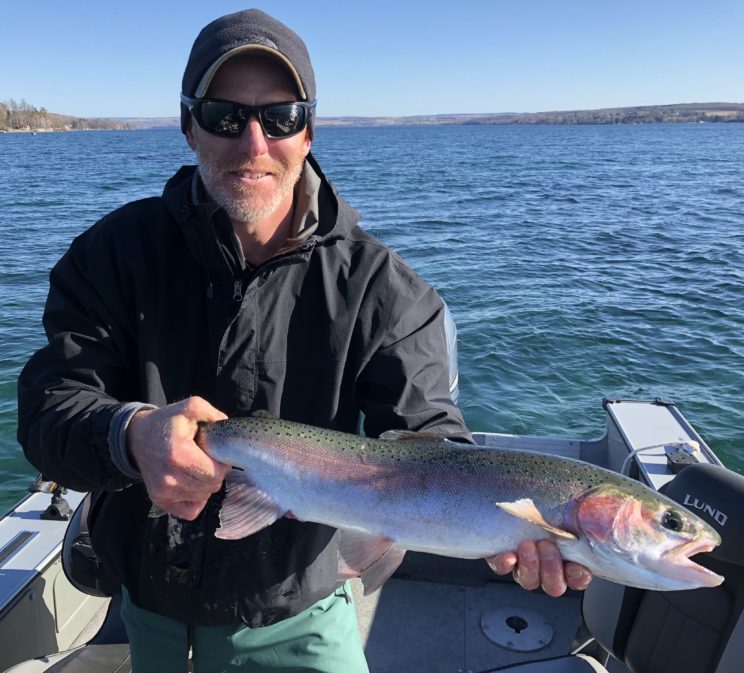 And then it did! The weekend was calm, crystal clear and filled with sunshine. The intense rays of April sun warmed the temperature of the lake a few degrees in just a couple of days and the rainbows were active. It did not take my friend John and I long to find them and seduce them to take a fly!
23 October 2017
State fisheries biologists undertook a gill netting survey of the lake this past August. They found lake trout numbers to be about the same as usual. They caught no rainbow trout in their nets, but the nets are not designed to catch the rainbow trout I am told. So that is not a reflection of the vanished rainbow population. The angler diaries they collect indicates the vanishing of the rainbow population, coinciding with what many of the hardcore Skaneateles anglers already figured out. The state stocks a combined 20,000 rainbow trout and landlocked salmon in the lake every spring. Angler catch rates on rainbows are at an all time low.
Where did the trout go? Into the stomaches of smallmouth bass is a theory of the state biologist. In a report on Skanetaeles Lake published by the state biologist this past spring, Skaneateles Lake is touted as an up and coming smallmouth fishery.
To ice the cake…A healthy and fast-growing walleye population was found in this summers' netting survey. The biologist believe that walleye will likely become an apex predator alongside the lake trout in Skaneateles Lake and that the future of Skaneateles Lake as a viable rainbow trout and landlocked salmon fishery is uncertain at best.
Wow.
They estimate with some degree of certainty, based upon the age of netted walleyes, that these fish were aggressively and illegally stocked five years ago. They are reproducing in the lake and show very good growth rate.
It was inevitable. Just a matter of time I guess. Skaneateles Lake is now on its way to being a walleye lake and I cannot help but feel like the walleye stocking was someones misguided mission. A mission that has changed the fate of what was once one of the greatest rainbow trout lake's in New York State.
Time to sell some fly rods and buy some planer boards.
Peace
Mike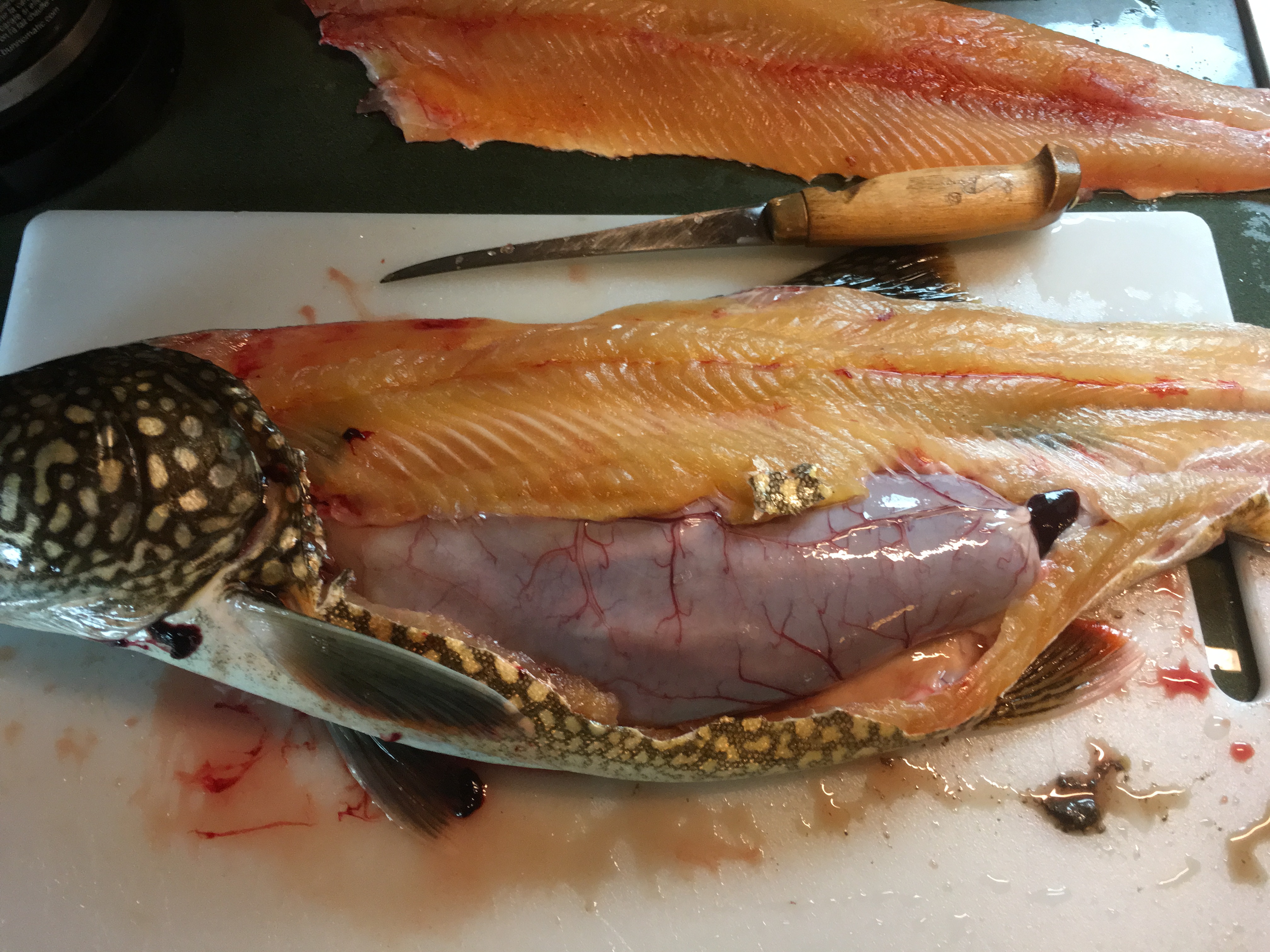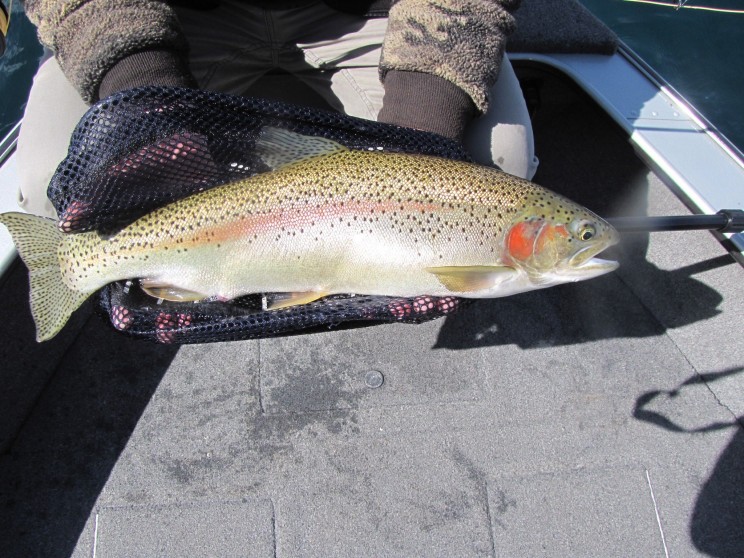 19 October 2017
Pat and his brother-in-law Bob joined me for a morning of lake trout jigging. Pat recently bought a home on the lake and had yet to catch a lake trout. I warned him the lakers had been somewhat difficult as high water temps and stratified lake conditions are remaining into mid October. We found fish in two locations and they were more aggressive than I have seen them in the last few weeks. They were found in 75 FOW. Pat had a couple fish grab his jig but did not connect. Much to Pat's chagrin, Bob set the hook into three lakers and landed each (with a couple misses as well).
A stiff south wind revealed to me that my electric bow prop was falling apart. It made it through the morning, and we were able to hold on fish and have a good time. After dropping off my guests, a closer inspection of the prop reveals it is falling apart. So that unit is out for troubleshooting and perhaps repair, but I doubt it is salvageable. It is time to replace the unit I think. Five years of hard use is acceptable for any of todays equipment.
14 October 2017
Weather was stunning but water temperatures reman higher than normal for this time of year. I usually find surface temps in high 50's by the middle of October, but this years mild temperatures in September and October have kept temps high. The lake trout still in 80 to 100 FOW and bass aggressive. Traditional summer pattern is starting to break with the lakes' smallmouth. The shorter days make for more active crayfish and the fish have turned their attention to the plentiful crustaceans. While fighting, smallies' will expel the contents of their stomach. And while perch fry has been the main ingredient in September, the fish seemed to have recently turned their attention to crayfish. Landed over twenty fish, with one nice one brought to net. Most fish average 12 to 14″.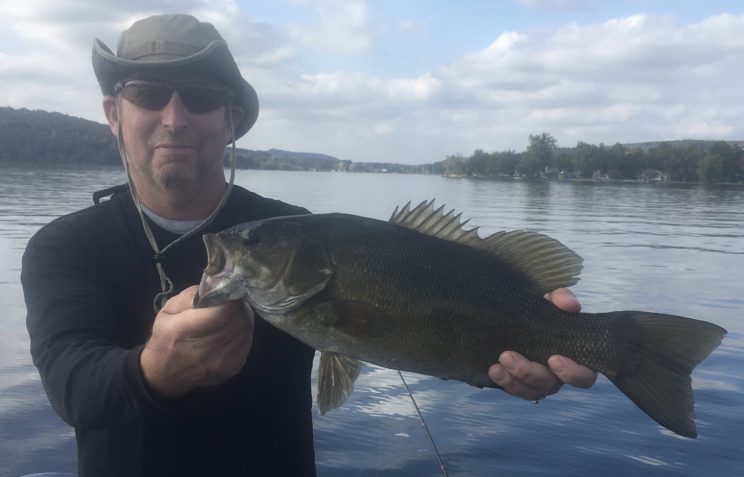 10 October 2017
Day started out overcast with a nice south breeze and my guests enjoyed good fishing for smallmouth and lake trout. Same locations fished but fished seemed more aggressive with overcast skies and light drizzle. The lake is infested with rock bass this year and I have to believe their strong number have an major impact on the food chan and other warm-water species of the lake. Few large smallmouth this year have come to net on my boat. Many 12 to 16 inch sallies that must compete heavily for food with the numerous rock bass. The smallmouth seem to be more mobile however. A school found in one location one day will have to be searched out again the next, while the rock bass stick tight to their reliable haunts.
Lakers still building in numbers adjacent to shallower structure n 80 to 100 FOW. More aggressive today than the other day. Guests landed 7 and dropped as many. Three important ingredients are key to a day of catching fish. Find the fish. Know what they will put in their mouth, and deliver a solid hook-set. If any one of these key ingredients is missing, well, the fish don't come to the net. When guests are fishing in my boat, the fishing rod is in their hands. I take the opportunity to show the proper way to set a hook in the mouth of a fish that has taken the presentation. But this important key to landing fish can often be a challenging skill for novice anglers to learn.
7/8 October 2017
Water temperatures remain in high to mid 60's over Columbus Day weekend. Sunday's weather brought strong south winds that are welcome. Bass and panfish still active in 16 to 22 FOW and my guests were enjoying the hard-fighting smallmouth. Searching for Lake Trout I found small schools of small fish in 80 to 100 FOW. They are confined to the deeper regions of the lake but are starting to gather near deep structure. 
My guests were interested in learning to fly cast so we a couple hours each day working on developing the mechanics of the fly cast. A day spent in a boat in calm conditions with an experienced fly caster is an excellent way to learn how to fly cast.
30 September 2017
A long stretch of beautiful weather was interrupted briefly this past weekend by strong north winds. Saturday morning was wet and cold as a Canadian high pressure system forced a front to the south. The wind created some good current and the cloud cover had the fish active. Surface temps still in the high 60's. A good chop, whitecaps, and big rollers in the southern portion of the lake, restricted my guests and boat to the northwest portion of the lake. Some smallmouth were found but fish seemed to be in transition as current and bait were beginning to concentrate in the sudden change of conditions.
The lake is still very stratified. With the exception of Saturday's weather and wind, it has been extremely calm last several days, creating scattered schools of fish. The mixed bag of warm-water species could be found anywhere combined rocky and weedy bottom was found in 32 to 40 feet of water.
18 September 2017
Having fished the lake two out of the last three last days, I found lakers stacked in 100 FOW. Mostly small fish, 18 to 20 inches in length. The few large marks I found were up high. Laker fishing was slow but slight south wind kept the boat moving today and smallmouth were active. 
The shallow margins of the lake are infested with rock bass that are on the feed constant. The crayfish and fry from this past spring's hatch are active and plentiful, all the caught-and-released fish landed on my boat in last two weeks appear to be feeding hard and are fat and stout.
The cold water fish, the trout, seem lethargic. This high pressure system parked on us for days may be why. Wind dispersed the alga bloom this morning but lake is still turbid and warm. In a week or two strong south winds will begin to turn the lake over. And then the real fishing begins.
Talked to a gentleman who helped the DEC with their survey netting program a few weeks ago. Very few rainbows or salmon were counted in netting results. Seems like the lake could use some good news.
15 September 2017
On occasion I stop into the local bait shop during the winter months. The only time I fish with live minnows is under the ice. During small talk with the owner he mentioned that a guy came in to the shop claiming to have caught a walleye in Skaneateles Lake. Since I believe little of what the bait shop owner says…I was skeptical.
That was in February of 2014. But then in August of 2015, I was hovering over a school of fish near a  weedy rock pile in 32 feet of water when a guest reeled in a 10 inch walleye. A small  but nice looking walleye that was vibrant and healthy. Just this past Tuesday I was fishing Skaneateles Lake with vacationers from Germany. While drifting over scattered rocks and sparse weeds, in 32 feet of water, one of my guests reeled in a 13 inch walleye.
The presence of walleye in Skaneateles Lake is interesting, but not surprising. To the east a short distance is Otisco Lake with an established walleye population. And to the west a short distance is Owasco Lake. Owasco Lake has a remnant walleye population still hanging on as the result of a failed private effort to stock walleye several years ago.
While these lakes are not connected in any way, their proximity to each other would accommodate the illegal transfer of fish from one lake to another by anglers. That is what has taken place. The NYSDEC knows the situation, but understanding the effect an established walleye population will have on the food chain in Skaneateles Lake remains to be seen.
5 September 2017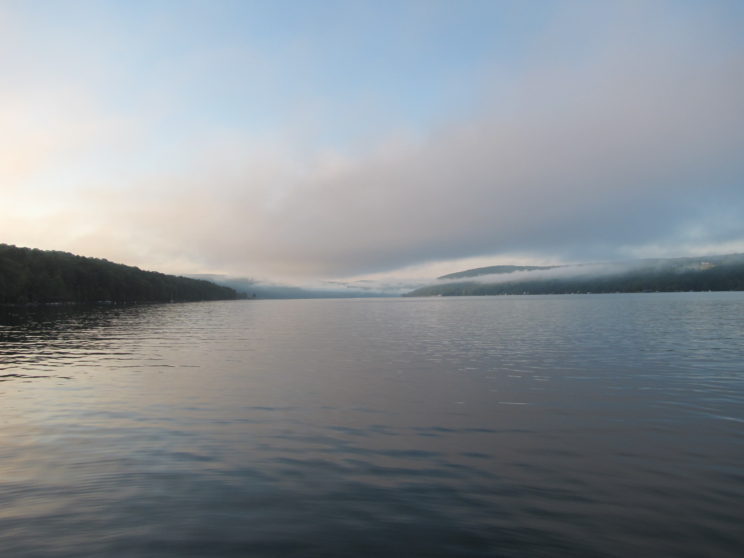 The summer of 2017 marks the 15th season I have been guiding anglers on Skaneateles Lake.      I have met many people and have come to develop a respect for this spectacular lake.
Over the years I have seen the lake change, watched trout populations rise and fall and grimaced as the lake grew into a local fishing and boating mecca. I have always practiced catch-and-release light tackle and fly fishing on my boat, even been vocal about the value of catch-and-release on the lakes' trout. But the simple fact is, Skaneateles Lake is managed as a put-and-take fishery. New York State puts tens of thousands of stock trout in the lake and anglers take them out.
Effective trolling techniques practiced by weekend anglers who creel a few trout for a meal on occasion have no impact on a trout population. The charter boat captain, however, soliciting vacationing tourists for cash to catch their limit of trout, day in and day out, has an impact.
Meat fishing, trolling, is fine. The sheer size and volume of Lake Ontario for instance, the greatest put-and-take trout fishery in New York State, can handle daily creeling of limits of fish with no noticeable impact. Year after Year. The professional captains working Lake Ontario take their game serious. They bag trophy fish in a challenging environment that can sustain such harvest season after season.
Smaller lakes like Skaneateles Lake are different. When the lake stratifies in summer the trout are constrained to specific depth due to water temperatures and oxygen levels. During this window of time (only a couple months of the year) summer trout populations are located with advanced sonar and GPS systems. Once found, dragging treble hooked plugs and spoons through the susceptible fish over and over again can quickly turn a limit of trout.
I think greasing limits of trout for vacationers in exchange for cash is unsportsmanlike. While trout are stocked it does not make them less valuable or infinite in number. They are a resource that could use more respect and less exploitation…Wherever they exist
If a cooler of dead trout means a successful fishing trip, perhaps you should re-think why you are fishing.
Remember the words of the late Lee Wullf;
"Trout (stocked or wild) are far too valuable to be caught only once".