18 September 2017
Fished the lake two out of the last three last days and found small lakers stacked in 100 FOW. Mostly small fish, 18 to 20 inches in length. The few large marks I found were up high. Laker fishing was slow, but slight south wind kept the boat moving today and smallmouth were active. 
The shallow margins of the lake are infested with rock bass that are on the feed constant. The crayfish and fry from this past spring's hatch are active and plentiful, all the caught-and-released fish landed on my boat in last two weeks appear to be feeding hard and are fat and stout.
The cold water fish, the trout, seem lethargic. This high pressure system parked on us for days may be why. Wind dispersed the alga bloom this morning but lake is still turbid and warm. In a week or two strong south winds will begin to turn the lake over. And then the real fishing begins.
15 September 2017
On occasion I stop into the local bait shop during the winter months. The only time I fish with live minnows is under the ice. During small talk with the owner he mentioned that a guy came in to the shop claiming to have caught a walleye in Skaneateles Lake. Since I believe little of what the bait shop owner says…I was skeptical.
That was in February of 2014. But then in August of 2015, I was hovering over a school of fish near a  weedy rock pile in 32 feet of water when a guest reeled in a 10 inch walleye. A small  but nice looking walleye that was vibrant and healthy. Just this past Tuesday I was fishing Skaneateles Lake with vacationers from Germany. While drifting over scattered rocks and sparse weeds, in 32 feet of water, one of my guests reeled in a 13 inch walleye.
The presence of walleye in Skaneateles Lake is interesting, but not surprising. To the east a short distance is Otisco Lake with an established walleye population. And to the west a short distance is Owasco Lake. Owasco Lake has a remnant walleye population still hanging on as the result of a failed private effort to stock walleye several years ago.
While these lakes are not connected in any way, their proximity to each other would accommodate the illegal transfer of fish from one lake to another by anglers. That is what has taken place. The NYSDEC knows the situation, but understanding the effect an established walleye population will have on the food chain in Skaneateles Lake remains to be seen.
Peace 
Mike
5 September 2017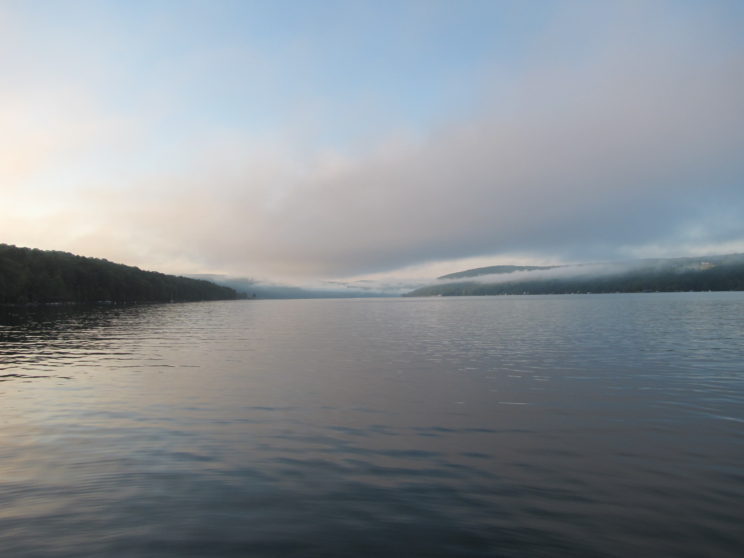 The summer of 2017 marks the 15th season I have been guiding anglers on Skaneateles Lake.      I have met many people and have come to develop a respect for this spectacular lake.
Over the years I have seen the lake change, watched trout populations rise and fall and grimaced as the lake grew into a local fishing and boating mecca. I have always practiced catch-and-release light tackle and fly fishing on my boat, even been vocal about the value of catch-and-release on the lakes' trout. But the simple fact is, Skaneateles Lake is managed as a put-and-take fishery. New York State puts tens of thousands of stock trout in the lake and anglers take them out.
Effective trolling techniques practiced by weekend anglers who creel a few trout for a meal on occasion have no impact on a trout population. The charter boat captain, however, soliciting vacationing tourists for cash to catch their limit of trout, day in and day out, has an impact.
Meat fishing, trolling, is fine. The sheer size and volume of Lake Ontario for instance, the greatest put-and-take trout fishery in New York State, can handle daily creeling of limits of fish with no noticeable impact. Year after Year. The professional captains working Lake Ontario take their game serious. They bag trophy fish in a challenging environment that can sustain such harvest season after season.
Smaller lakes like Skaneateles Lake are different. When the lake stratifies in summer the trout are constrained to specific depth due to water temperatures and oxygen levels. During this window of time (only a couple months of the year) summer trout populations are located with advanced sonar and GPS systems. Once found, dragging treble hooked plugs and spoons through the susceptible fish over and over again can quickly turn a limit of trout.
I think greasing limits of trout for vacationers in exchange for cash is unsportsmanlike. While trout are stocked it does not make them less valuable or infinite in number. They are a resource that could use more respect and less exploitation…Wherever they exist
If a cooler of dead trout means a successful fishing trip, perhaps you should re-think why you are fishing.
Remember the words of the late Lee Wullf;
"Trout (stocked or wild) are far too valuable to be caught only once".
Peace
Mike