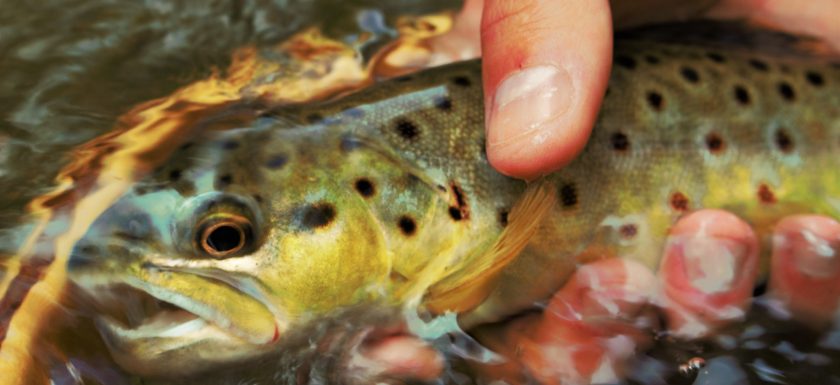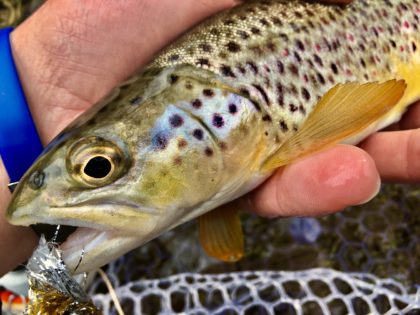 We all know that Spring, here in Upstate New York, can be a little bit, or a lot of bit, slow to arrive from year to year.  Well… This year has been one of those years.  While we're hopeful for the start of Spring with seasonably warmer temperatures arriving this weekend, water temperatures around the lakes have been unsteady and less than ideal.  We patiently wait to get on the lakes, but streams across the area have been on fire with trout eager to take a fly.
As Spring temperatures year to year are unpredictable, there is one thing that remains pretty constant with area streams.  They all receive their share of trout from the NYSDEC and county each April, May, and June.  There are many variables that affect trout fishing conditions early in the season.  Snow melt and its effect on flow rates is one.  Going hand in hand with flow rate is turbidity.  But, invariably, these hardworking, blue collar, stocked fish are hungry and eager to please.  Spring temperatures may not be conducive to lake fishing or starting your garden, but conditions have been better than ideal fly fishing for the beautiful Brown Trout.
After receiving some snow in March, most was gone by opening weekend.  Runoff had already made its way through streams, which has kept high water and terrible turbidity at bay.  And, while temperatures have been disappointing, they have been fair enough to increase temperatures a few degrees to create just enough activity in the local streams.  Couple these conditions with those feisty, hungry, newly stocked trout and what do you get?  You get a great day on the water, of course!  Nymphing techniques and streamer fishing have both been effective, with the former being the more productive of the two.  We've been out every week, and each week has been phenomenal!
Though this turned into a short field report, rather than my intro blog post, I cannot help but to get excited this time of year.  While I travel far and wide with a fly rod in hand, wetting a fly on my local small stream waters, chasing wild and stocked trout, is something that I do as often as I can.  Catching feisty, wild trout is a true passion of mine, as is taking their picture! (above)  I'm happy to be on board and contributing.  As always, get ahold of us for trip and booking info, and be sure to check us out on Facebook and Instagram.
Keep the lines tight, rods bent, and drags screamin'.  See you on the water!
Brian Lansing