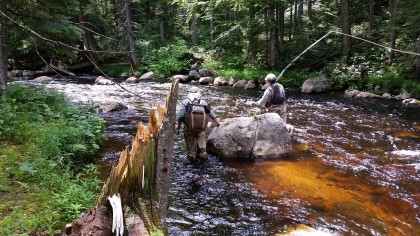 One of the perks to professional guiding is getting our hands on quality gear at affordable prices. While I have been fly fishing for over two decades, I never owned a pair of high quality waders. I used to think "Why spend  a few hundred dollars on a pair of waders when I usually wear out a pair each season". But this season I broke down and instead of buying 150 dollar waders from Cabelas/BPS…I bought a pair of  Simms 2018 Freestone Z waders with matching felt sole Freestone Boots.
They just arrived at my cabin yesterday!
Also, UGS guide Brian Lansing just received a pair of Reddington Sonic Pro HD waders fresh out of the box!
So we will have some opinion on these waders in the days ahead!
Tight Lines!